Multiple Implants at The Cambridge Dental Implant Centre
Introduction
Some patients lose their teeth. This is typically caused by gum infection (periodontitis) or by teeth breaking due to previous fillings.
When this happens there are often multiple spaces to restore. In this case there are a lot of considerations before the treatment can begin
This is where our experienced team comes into the fore.
In cases of Multiple implants the treatment planning can often take as long as the treatment, and this is because we want to get the best result for our patients.
Type of Multiple Implant Placement Cases
1. Large Gaps
2. Bridges
3. Dentures
4. Multiple gaps between teeth
Bone Grafting/Augmentation
Our implants team at The Cambridge Dental Implants Practice offers bone grafting/augmentation in an ultra modern and safe environment.
These are a relatively easy procedure when carried out by experience practitioners and our clinical team has a vast range of experience.
In some cases there is not enough bone to support the implant.
In these cases we add an artificial bone substrate to the area around the implant.
Basically we use artificial bone to promote the formation of real bone.
There are two main scenarios
The first is where we add bone to the area and then wait before we place the implant (a few months). The cost for this is approximately £200 per implant.
The second is where the bone is added at the same time that the implant is placed. The cost for this is approximately £100/150 per implant.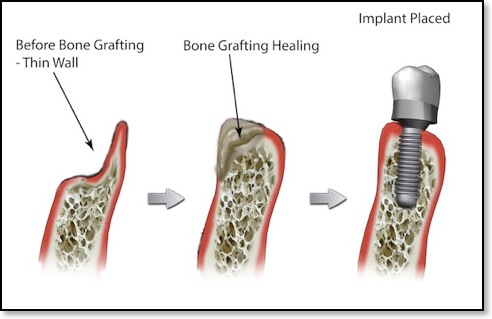 Sinus Lifts
Our implants team at The Milton Keynes Dental Implants Practice offers Sinus Lifts in an ultra modern and safe environment.
This is a complex procedure and our clinical team has a vast range of experience.
In the upper jaw there are sinuses about the teeth, and this is especially important above the back teeth.
As a result of perhaps gum disease, trauma or other diseases the bone between the gum and the sinus is lost and this means either that the implants have to be very small or there will be a high risk of the implant entering the sinus.
To reduce the problem a layer of bone is established in the sinus thus increasing the bone between the gum and the sinus.
The cost of a Sinus lift depends on the complexity.
Small Sinus Lift From £400 (Average £475)
Large Sinus Lift From £800 (Average £875)
Our Sinus Lift Team
We are now doing Sinus lifts on a frequent and regular basis. We therefore have a very experienced Team of dentists and Nurses.
Dr Jaime De Castro Torres
Dr Iyad Abou-Rabii
Dr Ezgi Cilinger
The procedure is very complex and we have a fully fitted out practice with the very latest Bone Surgery Equipment and the highest decontamination standards.
Dr Jaime De Castro Torres,
GDC registration: 218178
Dr Jaime De Castro Torres, Lic Odont Universidad Complutense de Mad 2011,
Jaime has been with us for over 4 years. Jaime practices in both practices in Cambridge and Milton Keynes, and was attracted to apply for a position at our practice by its high reputation amongst the local dentists.
Jaime has a special interest in Implant Dentistry.
Jaime is a very experienced Implant dentist and has placed more than 250 implants in the last 12 months. In fact his practice now is almost all Dental Implants.
90% of dental implants are straight forward and have a very high success rate (> 97%). Jaime is completely focused on the straight forward cases and this is why we are able to offer our implants at such a competitive price.
Jaime offers single implants, bridge and denture retained implants.
Jaime is about to complete a 3 year Post Graduate Masters Degree in Implant Dentistry (MClinDent). The course is part of the pathway towards "Specialist" Status.
Jaime is very experienced with the various Oral Surgery procedure associated with dental implants such as Bone Grafts and Sinus Lifts.
We have a fully equipped Dental Implants Suite, with the very latest Dedicated Electric motors and all the implant paraphernalia.
As with all cross infection control procedures at the practice we operate "Best Practice" and so we "Gown Up" for implants. Our Recent CQC was very positive about the service and facilities we offer.
Jaime has a reputation for being a very gentle and caring dentist as well as a dentist who takes his time to explain treatment plans to patients.
Dr Iyad Abou-Rabii
GDC registration: 257106
Dr Iyad Abou-Rabii , Diploma of Doctor in Dentistry Al Baath 1991, PGCertPharma PGDipOMFS MResBiomedSc PhD FADFEDental Surgeon
Dr Iyad Abou-Rabii offers a full range of Oral Surgery and Implant treatments.
Iyad is an extremely experienced surgeon with and extensive experience in general dental surgery and Dental Implants. Iyad has completed more than 2000 implants, and many 1000's of minor oral surgery procedures (impacted teeth).
Iyad has published many articles in international Dental and Medical Journals
08/2015 to date
Honorary Senior Research Fellow De Montfort University
The Gateway, Leicester LE1 9BH (United Kingdom)
07/03/2011 to 31/07/2015
Clinical Teaching Fellow (Implant Dentistry) University of Warwick
Course Director (Masters in Implant Dentistry).
To make an appointment please ring
01908 690326
or
email us on OralSurgery@MKDentalcare.com
Dr Ezgi Cilingir,
GDC registration: 262933
Dr Ezgi Cilingir is a very Professional Experienced dentist who has extensive knowledge of periodontology, restorative dentistry, dental surgical procedures and state-of-the art techniques. She has worked both as a general dentist/periodontist with both local and international patients for 10 years in some of the best and busiest private hospitals, practices and university clinics.
PhD, Periodontology (2004-2010)
Thesis Topic: Er:YAG lasers versus ultrasonic and hand instruments in periodontal therapy: clinical parameters, intracrevicular micro-organism and leukocyte counts.
Istanbul University, Istanbul, Turkey
Publications
Malali (Cilingir) E., Kadir T. and Noyan U. (2012) Er:YAG lasers versus ultrasonic and hand instruments in periodontal therapy: clinical parameters, intracrevicular micro-organism and leukocyte counts, Photomedicine and Laser Surgery, 30(9):543-50. doi: 10.1089/pho.2011.3202
Oktay S., Basar I., Emekli-Alturfan E., Malali (Cilingir) E., Elemek E., Ayan F., Koldas L., Noyan U. and Emekli N. (2011) Serum and saliva sialic acid in peri-odontitis patients with and without cardiovascular disease, Pathophysiol Haemost Thromb. 2010;37(2-4):67-71. doi: 10.1159/000321377
Emekli-Alturfan E., Basar I., Malali (Cilingir) E., Elemek E., Oktay S., Ayan F., Emekli N. and Noyan U. (2011) Plasma tissue factor levels and salivary tissue factor activities of periodontitis patients with and without cardiovascular disease, Patho-physiol Haemost Thromb. 2010;37(2-4):77-81. doi: 10.1159/000323418
Malali (Cilingir) E., Basar I., Emekli-Alturfan E., Elemek E., Oktay S., Ayan F., Emekli N. and Noyan U. (2010) Levels of C-reactive protein and protein C in pe-riodontitis patients with and without cardiovascular disease, Pathophysiol Haemost Thromb. 2010;37(1):49-54. doi: 10.1159/000318189
To make an appointment please ring 01908 690326 or email us on Ezgi@TheHubDentalPractice.com
Click to Download Oral Surgery Referral Pack
Call 01223 363277 (Daytime)
Call 07973 227415 (Anytime)